Conditions have been perfect for fall planting and we have been busy.  Our year end sale just came to a close and was well received. Though we've sold out of certain items there is still lots to choose from. Check out our latest inventory for our current availability. Inventory.
The flowering perennials are always the first to sell out, but there are still some nice choices. A perennial that deserves more attention is the spreading gum plant. Native to coastal bluffs and dunes throughout much of California, this ground cover is a natural for areas with wind and salt spray. Has performed well inland too given a little summer irrigation. Forms a low, dense, weed smothering mat of thick leaves spreading 4 ft. or more wide. Blooms over a long period, summer into fall, with an abundance cheerful bright yellow daisies that provide an excellent source of pollen and nectar for pollinators. The common name refers to the dollop of white resin on each flower bud protecting it from predation.
Jerusalem sage or Phlomis are Mediterranean natives offering bold foliage, whorls of flowers attractive to bees and are low water using and deer resistant. In stock now is the cultivar 'Ed Bowles' which forms broad clumps of felted leaves 3-4 foot tall. This sage relative can grow in full sun but thrives with a little shade. It sports whorls of tubular yellow flowers in the late spring. Two other Phlomis species available now are Phlomis russeliana, a sturdy ground cover with large heart shaped leaves and whorls of yellow flowers and Phlomis purpurea with grey felted foliage and whorls of pink flowers.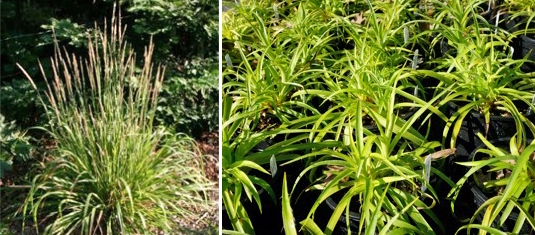 We have new crops of native grasses coming along which we will talk about in future newsletters. Still available is a nice crop of Pacific reed grass, a cultivar known as 'The King'. Selected from the King Range Wilderness in Mendocino County by extraordinary plantsman Roger Raiche. This cultivar offers particularly wide, deep green blades forming a bold clump 3 ft. tall. Attractive tall flower stalks with narrow plumes emerge in late spring and hold over a long period. Native to coastal areas in full sun or in the light shade of conifers, this evergreen grass forms a substantial clump and has a striking form.  Perfect along the coast but performs beautifully inland with a little shade and summer water. 'The King' has thrived in our heavy adobe clay soils at the nursery in light shade with occasional summer water and little else besides cutting back once a year.  An elegant grass relative, the golden wood rush, is another plant deserving more attention. Native from central and southern Europe, growing a foot or so tall with beautiful arching golden blades it slowly spreads to form a sturdy weed suppressing ground cover. Panicles of tiny reddish-brown flowers appear in the spring and as the season progresses the glowing gold of the leaves softens to lime green. Competes well with tree roots and is useful as a ground cover or in mixed plantings with ferns and other woodland plants.
Our supply of the useful western sword fern is ample with beautiful one gallons and plenty of four inch pots. We also have the southern maiden hair fern in four inch pots with its bright green leaflets on black wiry stems. The leathery leaved evergreen Polypody fern is available in four inch pots. From the forest floor there is redwood sorrel, a ground cover with clover like leaves. This selection, from Tilden Park has white flowers and makes a perfect companion with sword ferns in low light situations.
Through the rest of November we are open 6 days a week, Monday - Saturday 10 - 4. We are now closed on Sundays. We have just three more Saturdays that we will be open before we go to weekdays only. For December we will remain open weekdays only until December 16 and then will close for a winter break.