The northern part of our state has fared pretty well with near average rainfall. Not enough to turn around the long term precipitation shortfall, but it has sure helped. Many of our customers seem inspired by our moist winter and are sprucing up and adding to their plantings. Low impact gardening is catching on with an interest in plants that require less input of resources. Fortunately we have many fine plant choices that require less water and fertilizer, providing both beauty, interest and habitat benefits.
Check out our inventory link for our latest availability. Inventory. Our offerings are changing fast and are in a state of constant change. Feel free to inquire about plants not listed here. We can let you know if they are in the works and when they might be ready.
Here are a few highlights:
There is a sweet fragrance of orange blossoms wafting around the nursery.  Our collection of Philadelphus or mock orange are blooming now. We offer both native and non-native varieties, all are hardy, dependable, deciduous shrubs that are easy to grow. Requires at least half day sun to bloom well and moderate to infrequent watering once established. All offer pure white super fragrant flowers that delight pollinators. Two non-native forms are robust shrubs growing 8 to10 foot tall, with interesting foliage color, one golden-yellow and another variegated sage-green and cream coloration. A moderate sized non-native selection called 'Belle Etoile' grows 5 foot or so tall with beautiful blossoms that have a mauve-lavender center. Our native selections grow 6 -10 ft tall and sport an abundance of pure white blossoms and the cultivar 'Goose Creek' discovered near the Smith River has fully double flowers.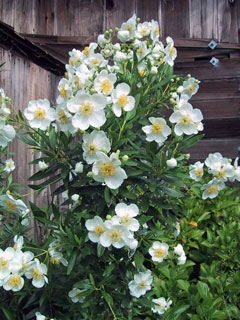 Closely related with similar flowers on evergreen foliage is Carpenteria californica or bush anemone. Long admired by gardeners here and abroad, Carpenteria is a rare endemic California native shrub from the Sierra foothills of Fresno County. Available now in one gallons is a compact and floriferous selection called 'Elizabeth'.
Our selection of Ceanothus or California lilac has improved greatly. These native shrubs offer different growth habits, everything from low mats, to medium mounding and large upright to small tree forms. Fast growing, drought tolerant evergreens with spectacular spring floral displays. Excellent habitat value attracting a wide array of pollinators, birds and other creatures with it's flowers, seed and cover. 
We have a good supply of attractive and sturdy perennials that provide pollen and nectar for a wide diversity of pollinators. Members of the Asteraceae or the sunflower family are especially popular with pollinators, providing a convenient landing pad and an abundance of nectar and pollen that is easily available. Gum plant, seaside daisy and yarrow are examples available now.
The mint family or Lamiaceae is another bee enticing plant family. We have our own selection of coyote mint, Monardella villosa 'Russian River' available now in four inch and gallon sizes. The non-native Calamintha has super fragrant foliage and a profusion of tiny white flowers and Salvia chamaedryoides the germander sage with it's small grey leaves and deep blue flowers are both bee magnets. 

In the grass department our availability grows. We have a nice crop of one gallon Festuca californica 'Phil's Silver', a fine selection of California fescue with broad silvery blades and robust habit. We have deer grass, Muhlenbergia rigens available in one gallons and four inch pots. This large native grass is versatile and adaptable. For smaller spaces consider Muhlenbergia dubia, which grows about half the size of the hefty deer grass.
We are open 7 days a week. Monday - Friday 9 - 5 and Saturdays and Sunday 10 - 4.