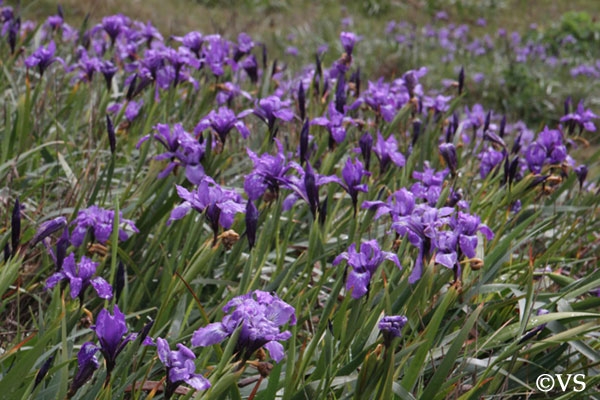 Beginning March 1st our business hours will change. We will be open Monday - Friday 9 - 5 and Saturdays 10 - 4. We will open on Sundays in April. Here is a link to our current inventory.  Plants are growing rapidly and our offerings are expanding with each week. Here are a few highlights:
If you have been out to the coast recently you've probably seen native Iris blooming. Douglas Iris can be found along the coast from Santa Barbara to Oregon, growing in coastal meadows and openings in the woods. Long popular in cultivation, this vigorous and dependable native Iris forms robust clumps of dark green strap-shaped leaves. Flowering occurs February to May with flower color ranging from white to light blue through dark purple. Plant in full sun along the coast and light shade inland. Once established plants are drought tolerant, but some summer water will be necessary inland. Grows well on clay soils too as long as they are not soggy. We have a good supply of Douglas Iris in one gallon containers. Also available is the cultivar 'Point Reyes' with compact dark green foliage and profuse dark purple blossoms. An added bonus, Iris are dependably deer, rabbit and gopher resistant.
We have added a new fern to our repertoire. Cheilanthes lanosa, commonly called the hairy lip fern (not pictured here). The interesting common name is from the greek Cheilos meaning lip, referring to the way the pinnules (lobes of a leaflet) form a lip, covering the sporangia (sac in which spores are produced). The hairy part refers to the gray woolly hairs on the stems and fronds, giving it a soft grey appearance. This small, sturdy, evergreen fern is one of the easiest to cultivate of the xeric or dryland ferns. Ours are available in four inch pots. Also available in the four inch size is the southern maidenhair and Tracy's maidenhair fern. In one gallons containers we have western sword fern and giant chain fern.
We hope you will stop by and see what is growing at Cal Flora!